The story of the estate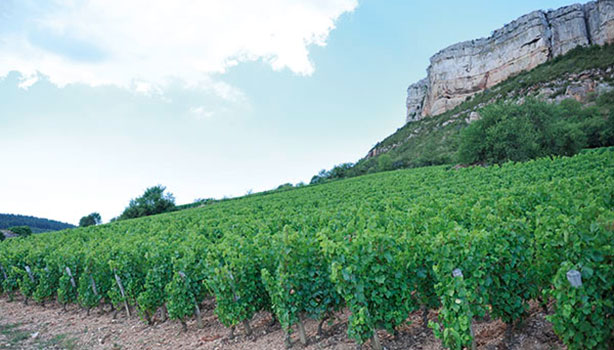 Carrette Domaine is located in Vergisson, at the foot of La Roche [The Rock], in a delicious stone-strewn vineyard landscape.
The vineyards are spread over 13 hectares (32 acres), reaching out to five communes:
Vergisson,
Solutré-Pouilly,
Davayé,
Chasselas and
Berzé-la-Ville.
On about forty parcels of land unique Chardonnay grapes produce white wines that depending on soil and micro-climate conditions have varied characters.
The different Climates* are harvested and converted into wine separately so that terroir** subtleties are expressed.
Domaine Carrette
Reflection of a terroir
Philosophy
Our philosophy, in the vineyard and in the cellar, is to do everything in our power to produce white wines that reflect their terroir and our personality. The enologist Jacques Puisais summarized this way of thinking:
« Whether great or not, a good wine has the taste of its birthplace and the guts of the guy who made it. ».
Our collections of vintages
To keep track of our work and the characteristics of each vintage, we keep a few bottles of each wine in the wine cellar. We now have a collection of about a thousand bottles of all vintages since 1976.
* A Climate in Burgundy is a precisely demarcated plot of land dedicated to vines, that is, the precise location, soil, subsoil, exposure, microclimate and history in the vineyard that add up to the features and characteristics of the unique personality of its terroir ** and its vintage.
** A terroir is the complete natural environment in which a particular wine is produced, including factors such as the soil, topography, and climate.