THE POUILLY-FUISSÉ CRADLE
The Southern Burgundy jewel
.
The Burgundy wine region is what's called Pouilly-Fuissé.
Burgundy is divided into five subregions that waken our taste buds whenever they're just mentioned. From the north to the south we can find
Chablis and big Auxerrois
Côte de Nuits
Côte de Beaune
Côte Chalonnaise
The Mâcon region
These five subregions have about a hundred Protected Origin Designations (POD = AOP in French).
Among them, Pouilly-Fuissé is the oldest and most prestigious Mâcon one. It's spread out over four villages: Chaintré, Fuissé, Solutré-Pouilly and Vergisson. It produces only white wines.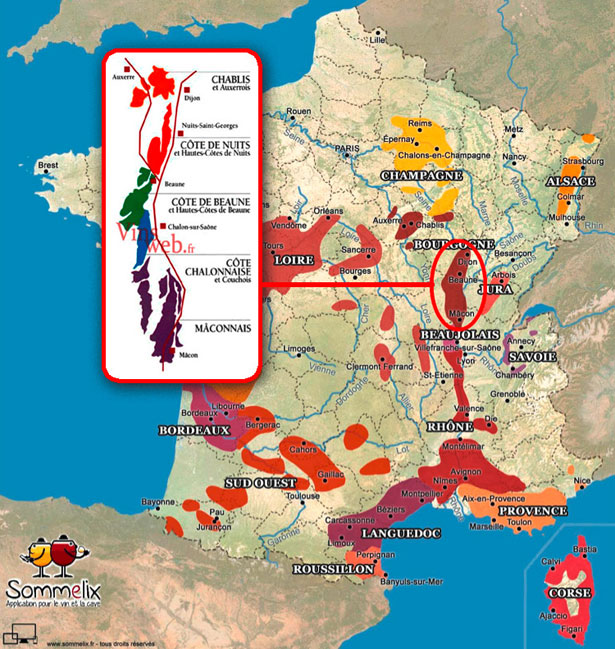 A legendary vine: Chardonnay
As for almost all of Burgandy's white wines, Chardonnay is the only vine used to produce Pouilly-Fuissé.
Present all around the Earth—including the USA, Australia, Italy, Chile, South Africa, and Argentina—Chardonnay type vine is appreciated for its adaptability to all kinds of soils and climates. And yet, it probably originated in Burgundy. A Mâcon district village even bears its name!
Chardonnay's main quality is its incredible ability to reveal terroirs (natural environments where wine is produced). Colour, aromas, acidity and guard potential depend very much on micro-climates and the soil of given parcels of land. By providing the worst wines with acceptable qualities it can do wonders in the biggest terroirs. For still wines, it's in Burgundy that it produces the Earth's most renowned wines. Thus it is that Montrachet, Meursault, Corton-Charlemagne and of course Pouilly-Fuissé have become references for wine lovers.
Another Chardonnay feature is its similarity with wood. Aging in barrels or casks is thus widely used to sublime its fragrances and structures, highlighting its chubbiness and enriching its bouquet of spicy aromas and brioche, or even toast.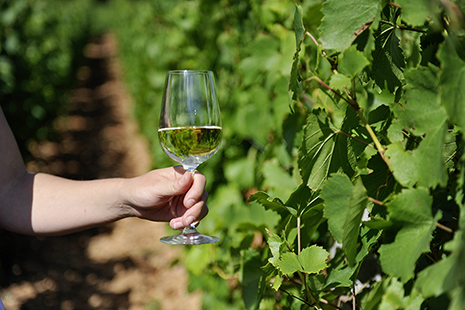 Chardonnay, the expression of a terroir
An area and its « climates »
In Burgundy
In Burgundy, they talk about Climate to specify a spot where there is terroir uniformity: topography, soil and micro-climate. The Pouilly-Fuissé zone has 200 climates spread among the four villages of the production area.
Those climates may be listed on the label when all the grapes the wine is made from originate in the locality named.
The Mâcon area is very hilly. The landscape is due to the uplift of the alpine massif that raised the borders of the Morvan and set up the Grosne and Bresse collapse ditches.
In particular that gave birth to the great Solutré and Vergisson Rocks, around which is the Pouilly-Fuissé vineyard.
From that tormented geological past were born about 15 different types of soil on the Pouilly-Fuissé area—thus representing a very important variety compared with other Burgundy names.
Those different soils, together with the layout—more or less steep slopes, and exposures—gave birth to the 200 climates in that named area. Thus, behind the name of Pouilly-Fuissé are hidden wines with many expressions… all of which share elegance.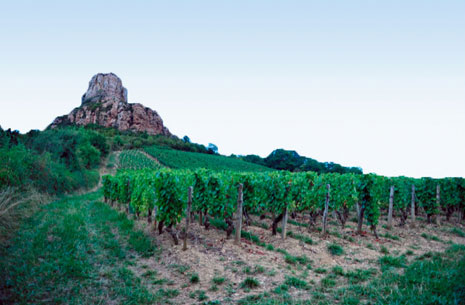 Hierarchy of Burgundy wines
Regional names (56% of the output)
Regional PODs can be produced throughout wine-growing Burgundy. These include for example Burgundy (red, white, rosé), Burgundy Crémant, Burgundy Coteaux, and Burgundy Aligoté (white wine from Aligoté grapes, not Chardonnay).
The regional name of Burgundy can be completed by geographical precisions: a subregion (Hautes Côtes de Nuits, Côte Chalonnaise, etc); a commune (Chitry, Epineuil, etc); or a locality.
Local names (30% of the output)
Grape products from individual communes (Beaune, Chablis, Givry, etc), or from groups. That's the case of the Pouilly-Fuissé name, based on four communes: Chaintré, Fuissé, Solutré-Pouilly and Vergisson.
As well as its communal name, the wine can have a climate name if all the grapes used to produce its wine share a single climate. Two examples: Pouilly-Fuissé « Les Crays »; Pouilly-Fuissé « Prés des Gours ».
Premier Cru community names (First-class Vineyard) (12% of the output)
The climate of a district can be classified as Premier Cru by the INAO (Institut National des Appellations d'Origine = National institute of original names) thanks to the superior quality of its soil. In that case the name bears the name of the town plus « Premier Cru ». For example: Meursault Premier Cru « Les Perrières ».
Grand Cru names (2 % of the output)
Climates in certain districts can produce some very great wines, classified as Grand Cru. Their names are protected designations of origin, the district is not mentioned (even though it may appear in the Grand Cru name). Examples: Romanée Conti in the municipality of Vosne Romanée; Clos de Vougeot in the municipality of Vougeot; and Clos de la Roche in the Morey Saint-Denis municipality.
The current ranking of Mâcon wine
Today the Mâcon area has two hierarchical standards:
⁃ Regional names: Mâcon and Mâcon-Villages (the name of the commune is sometimes added when all the grapes used come from the same village). E.g.: Mâcon Azé is a Mâcon Village produced with grapes harvested exclusively in the village of Azé)
⁃ Community names: Viré-Clessé, Pouilly-Loché, Pouilly-Vinzelles, Saint-Véran and of course our Pouilly-Fuissé. These names are often completed with a climate name: for instance Pouilly-Fuissé « Ronchevat »: that is a climate in the municipality of Vergisson.
There are no Grands Crus in the Mâcon region, but on the other hand certain place-names—such as Pouilly-Fuissé—could soon see the birth of climates classified as Premier Cru.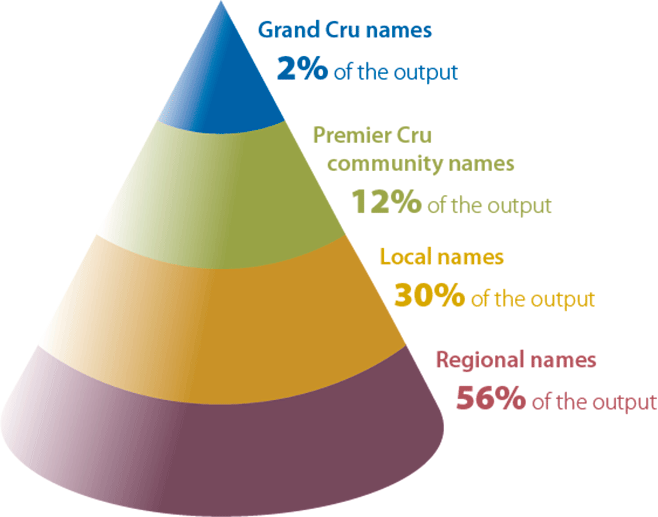 The Pouilly-Fuissé appellation
in a few figures