Exceptional storage time potential
In the same way as there are many soils, micro-climates and wine-growers there are also an incredible number of styles expressed under the Pouilly-Fuissé appellation.
Some will blossom when they are young and mature after two years. They are usually vinified in vats.
In contrast, there are certain cuvées of Pouilly-Fuissé which have remarkable aging potential and continue to express their secrets over a period of 20 years and even beyond, which is a rare thing in the world of white wine.
They are usually vinified and aged in wood barrels (Burgundian barrels of 228 liters and tuns from 300 to 600 liters).
Generally the producer will be only too happy to talk about his cuvées and advise on how best to manage your wine cellar.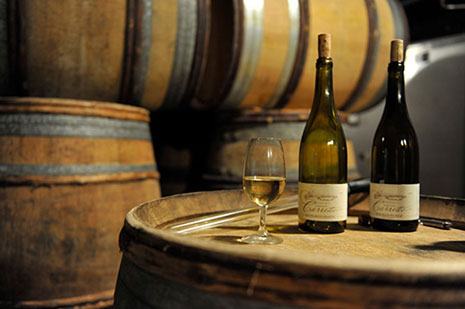 It's always the right moment to appreciate this "Cru"!
 The ideal temperature for serving is 12°. So many dishes pair well with this wine.
The Pouilly-Fuissé wines which are vinified in vats and aged for at least one year, have a pale yellow colour, powerful, fruity aromas (citrus and white fruit) and floral notes (lime tree and hawthorn). They are soft and refreshing to the palate.
They will be just perfect as an aperitif with cheese puffs and gougères.
For starters, they will happily accompany prawns, scallops and fish terrine.
As a main course, try them on your grilled or fried fish (trout, smelt, white fish), frogs, roasted chicken or other grilled white meat (filet mignon, veal chop…).
These wines will marry wonderfully with goat's cheese from the Mâconnais or Charolais region or a young Comté from the Jura.
The more structured Pouilly-Fuissé wines aged in wood barrels will be more golden in colour with aromas of ripe fruit (peach, mango, candied lemon) and floral notes (acacia, honey and beeswax) with spiciness (cinnamon, vanilla) and hints of toasted. Along with these aromas there will be with a powerful concentration and extraordinary length in the mouth.
They will come into their own accompanied by more elaborate and richer cuisine as in the case of foie gras, fish in sauce, fowl with cream, aged Comté, Epoisses…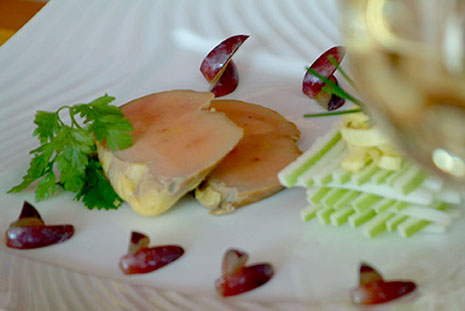 One of the many dishes which pair so well with Pouilly-Fuissé